Who We Are
Vet On Wheels is a mobile veterinary clinic in Singapore, complete with an operational van (coming in August 2019) for consultations and minor procedures.
Vet on wheels brings you integrative veterinary medicine for your pets - combining modern conventional medicine with alternative therapies to best suit the individual needs of your pet and family, at your convenience and time. Our special focus is on Traditional Chinese Veterinary Medicine (TCVM).
OUR PHILOSOPHY
We are dedicated to providing the best care for your pets by implementing a holistic treatment plan that combines the best of conventional and alternative medicine.  We believe in treating the whole pet rather than just the symptoms, and we focus on prevention of disease by bringing the body back towards a state of balance. We strive to customize a balanced health plan to enable your pet to have the best quality of life possible.
As an integrative veterinary clinic, we understand that there are times when conventional medication are better. For example, emergencies or pets in critical condition need conventional drugs to save lives. But we also believe that holistic therapies are better overall for long-term treatment plans, especially for chronic diseases.
Pet Owner Involvement
We consider every pet parent to be an essential member of our team, as we work together to keep your pet healthy and happy. We rely on your communication, feedback, decisions and commitment to medicating, diet adjustments, massage and exercise regime to help us achieve the best results for your beloved animals.
Meet Our Team
Why Choose Us
Convenience and time-saving
No more long queues and waits at the vet clinic required, as we bring the vet and clinic to your doorstep. Consultations, minor procedures and tests can be done in the comfort of your home if required. We accommodate your busy schedule by allowing a Skype call for correspondence, should you be unable to be personally present at  at home, but have someone else at home that is a secondary caretaker of your pet.
Holistic Approach
We understand that there are pet owners who may seek gentler, natural treatments for their animal companions. We welcome discussion of alternative treatments to be done in conjunction with conventional medicine, and will formulate a treatment plan in the best interest of your pet's individual needs.
Full vet attention and quality service
We take the time to listen to you, and strive to fully explain the pet's healthcare needs, and answer all questions patiently. Being mobile, we can evaluate and treat your pet in his/her natural environment. At the end of every consultation, we make sure you are equipped with the knowledge needed to help your pet.
Compassionate, gentle care
We treat your pet just like a member of our family, with compassion, love and concern. Our staff have pets of our own, and we genuinely love animals.
Personalized Wellness Plans
At each consult, we look out for clues that may indicate weakness in a particular body system, and formulate an individual treatment that brings your pet's health back into balance. We understand that every pet is unique in terms of personality, environment, diet, genetics and lifestyle, and take every aspect into consideration.
Here at Vet On Wheels, you can be fully assured that we will care for your pet with integrity and compassion, with respect for you and your pet while delivering high standards of professional care.
What our clients say
My corgi Benji was diagnosed with degenerative myeopathy about a year ago and I am grateful to have found Dr Jasmine as she has been managing his condition through TCM treatment. I like her dedication, passion and patience in helping and attending to my queries even after-hours. Benji definitely seems to have more strength and energy after the sessions with Dr Jasmine and it is definitely much appreciated!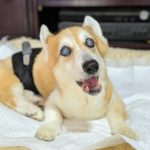 Ms Foo
Benji's owner
I would like to express my sincere gratitude to Dr Jasmine who dedicates her passion and time to journey together with my senior 17 yrs old canine, Champagne who is diagnosed with a spinal degeneration. Her progressive condition resulted in inability to walk with her 2 back legs. Started acupuncture & TCM with Dr Jasmine at the beginning of the year to maintain her condition.
Unfortunately, 3 months ago, Champagne accidentally fractured her femur. As age is concerned, surgery would be in a high risk. 2 vets that i consulted with, advised me to put her under anaesthesia. It was a heartbreaking moment and I was in a dilemma.
I remembered Dr Jasmine was telling me, "I don't like the idea of leaving the fractured as it is". So she tried to get a splint and treated her on a Sunday morning. Definitely, she is someone who has a strong determination to do something beyond her limitation. Someone who never fail to find a way, when there seems to be no way. She took this chance to be Champagne's saviour!
Acupuncture, chinese herbs & daily nutrition has helped to improve her fractured condition. Bones that were flabby, falling apart, had become more intact after 3 months. It may be 6 months or beyond for a callus to form and heal naturally, but I believe in miracles, and because God has send an angel like Dr Jasmine to treat Champagne, patiently & wholeheartedly, I can be rest assured that she will be in a good hands of her saviour. No matter how challenging it's going to be like, a journey of a man's best friend & Dr Jasmine will surely finish well!
Champagne's condition has definitely improved from time to time, even though she will not be able to walk like a normal canine anymore. She used to have an abnormal bladder size due to progressive effect of spinal degeneration, it makes her difficult to express her urine. After months of acupuncture, her bladder became easier to express and the bladder size had became smaller. Caring for a senior dog can be challenging. Dr Jasmine is someone whom I can truly trust for the comfort of my senior 17 years old canine, Champagne.
Ms Japutra
Champagne's owner
Sawyer who had severe allergies, has improved leaps after he has gone on TCM with Dr Jasmine. With TCM and a wholesome diet, Sawyer's skin now is glowing and he doesn't shed as much and smell as bad like before. He's also put on weight:). Dr Jasmine is also very patient with Sawyer who has great anxiety when he sees vets! She's also willing to spend time to answer our questions and give us very good advice:). Thank you Dr Jasmine!
Ms Jin
Sawyer's owner
Dr Jasmine has been treating Junior with acupuncture and Chinese medicines since March 2018 and Junior has showed great improvements after few sessions of treatments. Now, Junior is able to lift himself up easily and walk with stronger hind legs and has even put on weight. Heartfelt thanks to Dr Jasmine for all her professional acknowledge and always there to explain details to us. Now, with Vet on Wheels, it's so much convenient and stress-free for Junior to have his monthly acupuncture at home. THANK YOU DR JASMINE! KEEP UP THE GOOD WORK! 👍
Ms Tan
Junior's owner